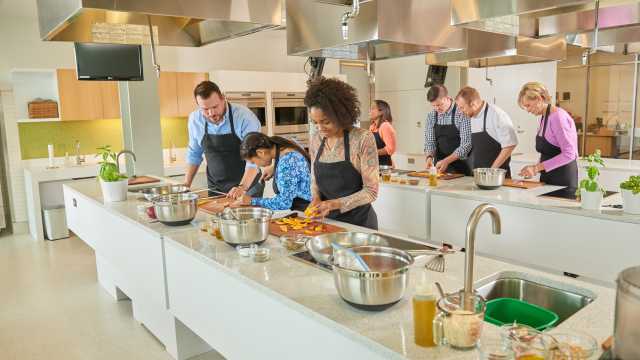 If you are considering taking chef courses, then you would have to take them as part of a certificate, bachelor's degree, or associate's program in the culinary arts. However, some institutions offer such causes to cooking enthusiasts as non-credit lessons.  
Each institution has its curriculum and courses might have different names but share similarities in the context of the course offering.  
Critical Information 
Bachelor's and Associate's culinary arts degree programs combine core culinary, general education, and elective content. Other than cooking classes, curriculums may also address food and beverage managing, nutrition, food science, and wine studies. If you are interested in independent chef courses, you might want to consider enrolling in a community college, specialty stores, or culinary schools in your local area. You don't need prior experience or educational background in culinary arts to enroll for stand-alone chef courses. You will, however, find that most institutions divide the courses into advanced, intermediate, and beginner levels. Some of the common topics expected include kitchen roles and stations, proper equipment and tools usage meats and fish cooking techniques, catering, menu planning, foodborne illnesses, and kitchen hazards. 
Some of the main chef courses you should expect to enroll in include: 
Professional Cookery 
This chef course familiarizes students with equipment used in professional kitchens as well as various methods of making quality dishes. Students also become acquainted with various cooking procedures and terms for meal preparation for big numbers of people. You would also expect to learn some safety tips and sanitation guidelines. Students learn how to prepare sauces, soups, poultry, meats, and seafood specializing in one ingredient or cuisine each term. 
Baking Rolls and Bread 
In this course, students learn how to use yeast for baking pastries, loaves of bread, and rolls. They are also taught the correct terms, measurements, and tools linked to baking an array of savory and sweet food items. At this point, you'd expect to master how to bake donuts, danishes, eclairs, croissants, rolls, and loaves of bread.  
Kitchen Skills 
In this chef course, students learn vital chef skills. From cooking techniques to knife skills to using a variety of ingredients and traditional stocks and recipes, sauces, as well as all essentials of culinary arts. Kitchen skills are taught at various intervals during the entire period of study, each allowing the student to move from being a basic chef to a specialized chef. 
International Cuisine 
In this course, students are taught how to prepare several international and ethnic cuisines. They explore the process of preparing foods from various regions across the world, spices, meats, and plants unique to these regions. 
Garde Manger 
This class focuses on teaching students how to prepare cold dishes such as pickles, salads, and preserved meats. There are advanced courses, but students can only enroll in these once they get certification in the lower classes. 
Click the link for more information :-how to build a team with activities in SG